Tsering Dorje was born in 1937 to a Tibetan mother and Han Chinese father in the Eastern Tibetan town of Derge, in the present-day Garze Tibetan Autonomous Prefecture of Sichuan Province. At the age of thirteen, as Mao Zedong's forces were entering Tibet, he joined the People's Liberation Army at the urging of his father. He would remain a soldier for the rest of his life. He acquired a Zeiss Ikon camera in his late teens and became an enthusiastic photographer.
Stationed in Lhasa in 1966, he used his camera to record the arrival of the Cultural Revolution in Tibet. His black and white images provide the only known visual account of the revolutionary zeal and political violence aimed at the Tibetan people during that period in Lhasa. His photographs document the mass rallies, political parades, and struggle sessions aimed at religious officials, government workers, landlords, shopkeepers.
Tsering Dorje died in 1991 while serving as a deputy commander of the PLA forces in Lhasa.  His work was first published in Taiwan under the title Shajie (殺劫) (Locus, 2006) which presented some 300 of his photographs with accompanying text by his daughter Tsering Woeser. It later appeared in English as Forbidden Memory (Potomic Books, 2020).
Tsering Dorje in front of the Potala.
c. 1969
Photographer unknown
Courtesy of Tsering Woeser
This exhibition features 23 of Tsering Dorje's photographs from a total of about 300 that have been preserved by Woeser. This selection includes many images from August 1966 and thus captures the early period of the Cultural Revolution in Lhasa. Descriptions are adapted from
Forbidden Memory 
by Tsering Woeser(English translation by Susan Chen).
---
Photographs Courtesy of William Frucht
THE CULTURAL REVOLUTION ARRIVES IN LHASA, 1966
Jokhang during the great prayer festival known as Monlam Chenmo, February 19-29, 1964.  Five years after the Dalai Lama was forced to flee to India, the presence of the regime is marked by the banner draped over the traditional door hangings and by the Chinese flag flying from the roof.  In 1966, the festival would be canceled–not to be observed again for twenty years–and the Panchen Lama who oversaw it would be denounced as « the most reactionary of the serf masters » and placed under house arrest. After a modest revival in the late 1970s, the festival was again canceled and is still forbidden.
---
Tsering Dorje
Untitled
February 19–29, 1964
Primary-school children wearing red scarves and armbands of the Red Guard style, waving Mao's Little Red Book.
---
Tsering Dorje
Untitled
c.1966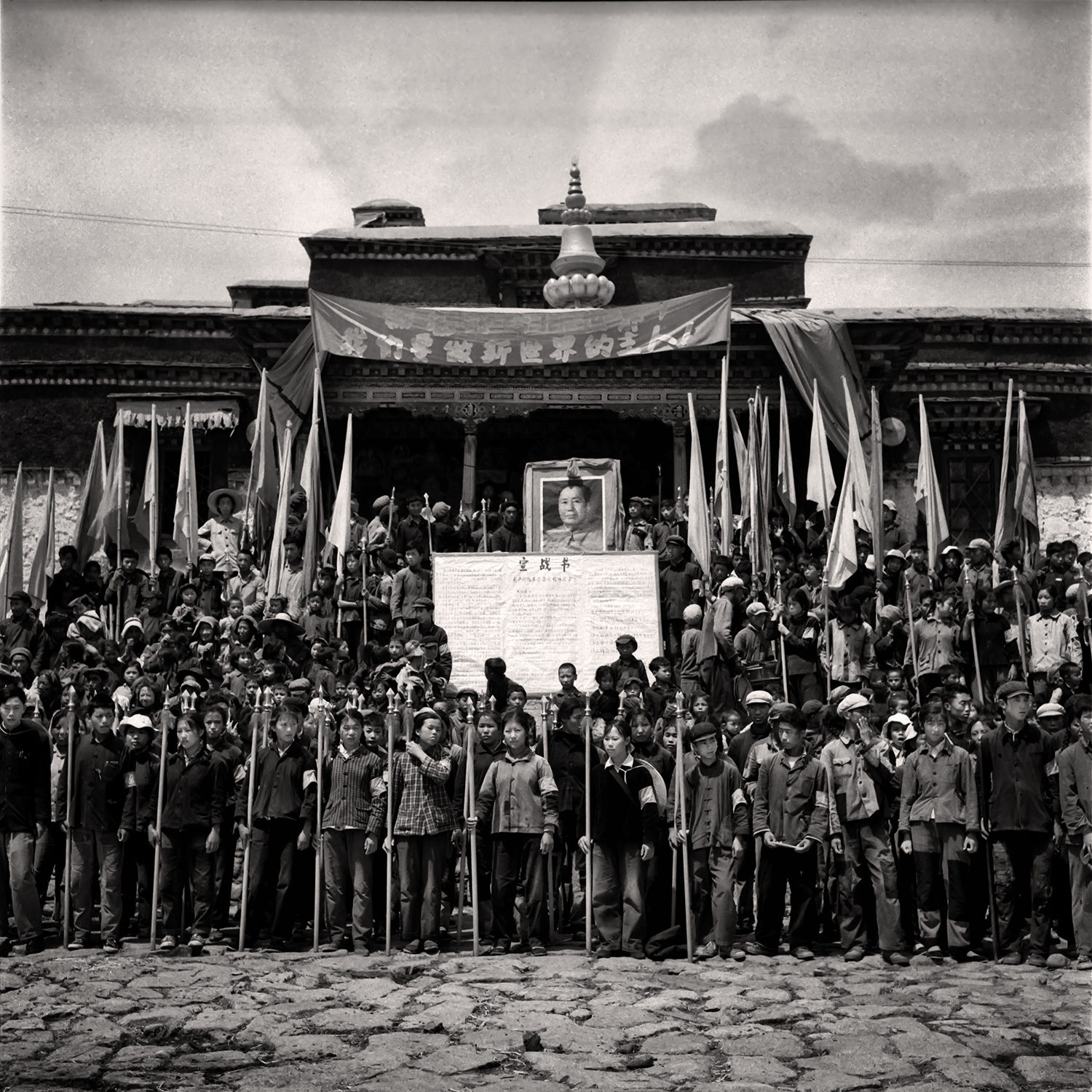 Mao declared the Cultural Revolution in May 1966, and it reached Tibet that August.  The vanguard of the movement were the Red Guards, composed primarily of students intent on enforcing Mao's vision.  Here, Red Guards gather in the Teaching Courtyard on the south side of the Jokhang.  The platform where high lamas once sat is now occupied by a portrait of Mao.  The banner above the platform reads, in Chinese, "Thoroughly demolishing the old world!  We want to be in charge of the new world!"
---
Tsering Dorje
Untitled
August 24, 1966
Tibetan Red Guards in the Teaching Courtyard holding their red-tasseled spears. Many of the earliest Red Guards in Lhasa were teenagers from Lhasa Middle School chosen by activist teachers; others were students at the Teachers' College. When Tsering Woeser showed this photograph to Lhasa residents who had participated in the Cultural Revolution, several recognized the young woman in the foreground.  She later became a devout Buddhist and passed away in the early 1990s.
---
Tsering Dorje
Untitled
August 24, 1966
The courtyard of the Jokhang after the first "revolutionary action," August 24th, 1966. The Jokhang, built in the seventh century A.D., was the central site of Tibetan Buddhism.  Behind the three Red Guards visible near the smashed statues and ritual objects, we can make out four people in the uniforms of the People's Liberation Army.
---
Tsering Dorje
Untitled
August 24, 1966
Religious texts being thrown into a fire in the Teaching Courtyard near the Jokhang. The fire was built using branches cut from a famous ancient willow tree in front of the temple, said to date from the seventh century, as well as other branches confiscated from nearby houses that had been used for hanging prayer flags.
---
Tsering Dorje
Untitled
August 24, 1966
Student Red Guards, lined up with their backs to the camera, outside the front entrance of the Jokhang.  In the foreground are ruined religious artifacts and texts that were destroyed in the sacking of the Jokhang because they represent the Four Olds. The tree in the background is the Princess's Willow, so named because it is associated with Wengcheng, who was sent by the Tang court to marry the Tibetan ruler Songtsen Gampo in 642 AD.  On this day, August 24, 1966, many of its branches had been cut to fuel fires to burn books, prayer flags, and prayer wheels.  A few weeks later, when revolutionary factions began fighting each other, two factions used chemical weapons in a skirmish here, poisoning the tree and killing it.
---
Tsering Dorje
Untitled
August 24, 1966
Residents of the Barkor with a "big character" poster.  Hanging such posters was a popular form of revolutionary action throughout China during the early phase of the Cultural Revolution.  When a new poster arrived, someone from the propaganda team would read it aloud accompanied by drums and gongs.  Because the posters were in Chinese, they would have been meaningless to many Tibetans.
---
Tsering Dorje
Untitled
August 29, 1966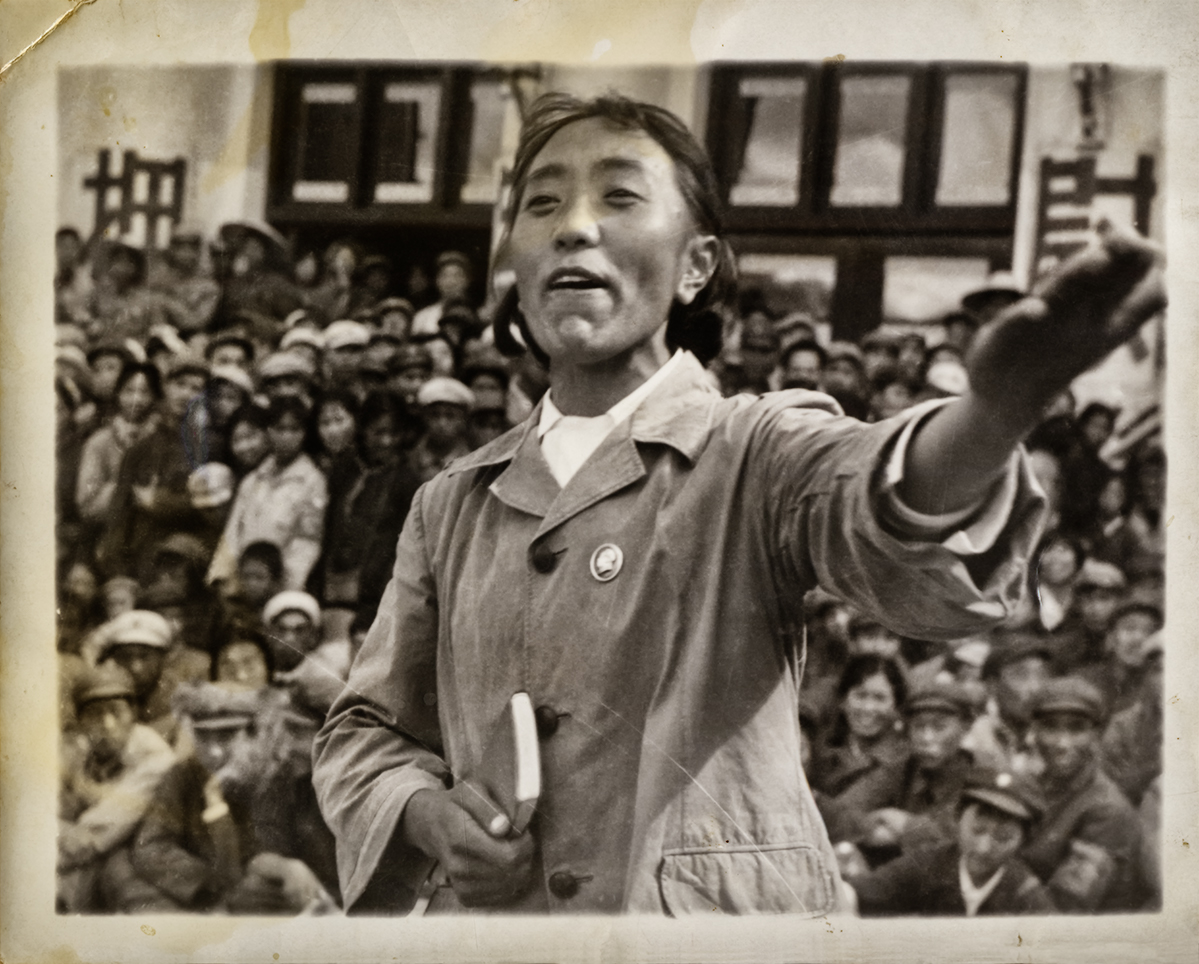 The "red singer" Tseten Drolma, who popularized almost all of the revolutionary songs from Tibet during the Cultural Revolution. Many of them were Tibetan folk songs rewritten to praise Chairman Mao or the Party; she still performs them in concerts today. According to one commentator, "Nobody who lived through the 1960s can fail to remember Tseten Drolma, whose voice became the blood of the era, flowing with the pulse of the time."
---
Tsering Dorje
Untitled
Possibly October 1966
October 1, 1966, the seventeenth anniversary of the founding of the People's Republic of China, was marked by a rally and parade involving some 50,000 people–a crowd approximately equal to the entire population of Lhasa at the time. The hill in the background, Parmari, would in past years have been dotted with prayer flags, but with the Cultural Revolution they have all disappeared.
---
Tsering Dorje
Untitled
October 1, 1966
Participants in the October 1 rally parade past the reviewing stand carrying pictures of Mao, placards with his sayings, and Chinese flags.
---
Tsering Dorje
Untitled
October 1, 1966
A mobilization meeting in the Teaching Courtyard.  By October 1966, just a few months after it began, the Cultural Revolution was already splitting into rival factions.  The two major factions in Lhasa held mass meetings almost every day.
---
Tsering Dorje
Untitled
October 1966
"Ox-demon-snake-spirit" was a term used during the Cultural Revolution to refer to individuals identified as "class enemies," including religious figures, government officials, and those from aristocratic families. People so designated then became primary targets for public denunciation and struggle sessions, as documented in the images that follow.
OX-DEMON-SNAKE-SPIRITS
Struggle parade in the Barkor neighborhood. The Tengyeling Neighborhood Committee marches with struggle targets past the former mansion of the Surkhang family, on its way to meet other struggle parades to conduct a large public humiliation. There are three photographers along the right side of the image:  one facing the camera, one with his head turned toward the struggle victims, who have been forced to wear tall hats; and one photographing the struggle victims with his back to Tsering Dorje's camera. All are likely from press organizations, yet not a single photograph of a Tibetan struggle session is known to have been published at the time.
---
Tsering Dorje
Untitled
August or September, 1966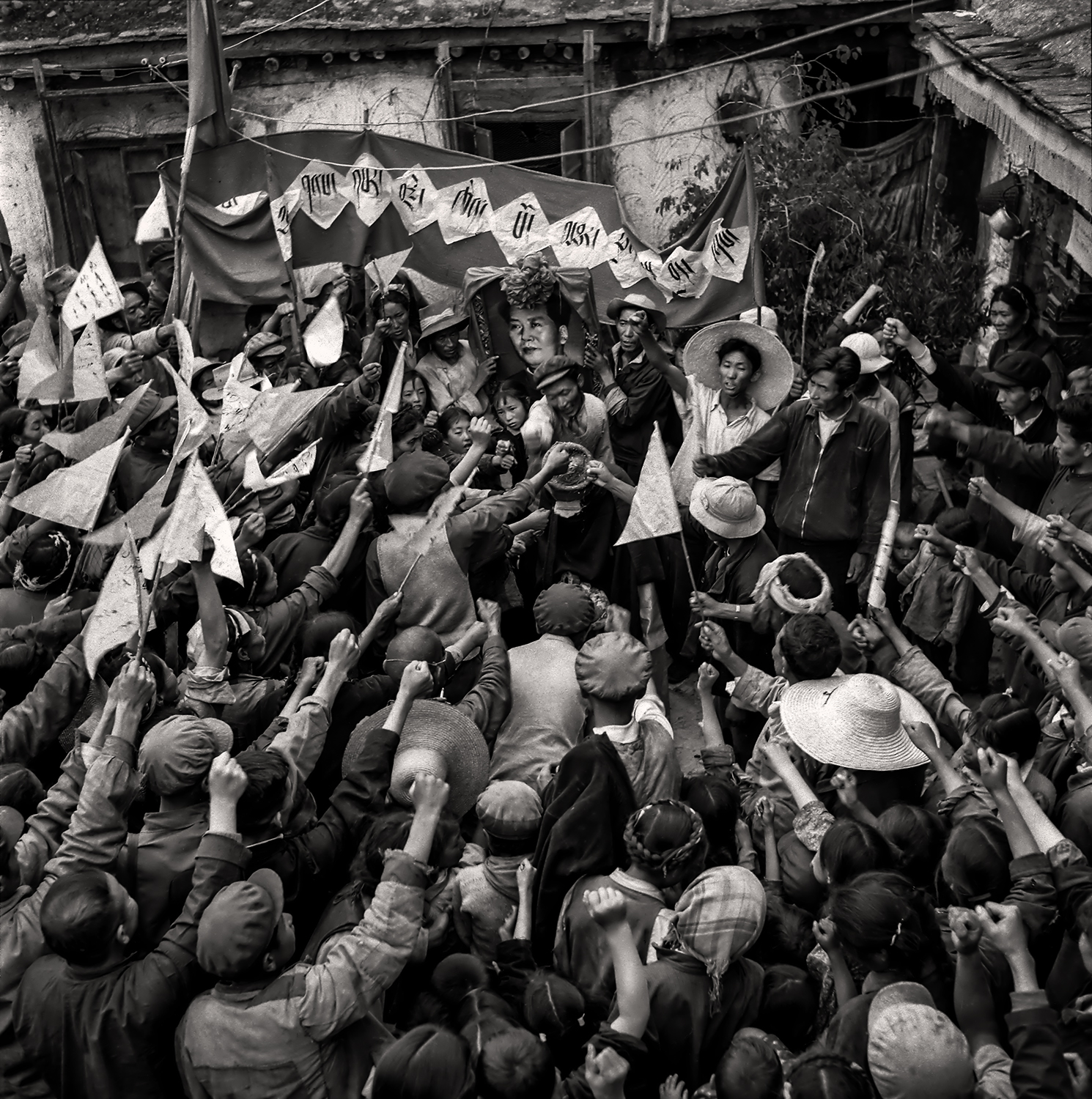 Public humiliation of Dorje Phagmo, the most important female reincarnated lama in Tibet.  At one time she was considered a patriot for having returned to Tibet from India in 1959. This struggle session—one of several she was subjected to—took place in the courtyard of her house.  She can just be seen at the convergence point of the upraised fists.  At this time she was in her mid-twenties and had given birth to her third child less than two months earlier.
---
Tsering Dorje
Untitled
Late August, 1966
A young man in a newsboy cap examines an amulet box belonging to Dorje Phagmo.  Perhaps he is merely curious, but "robbery" was one of the permitted ways of destroying the Four Olds. Tsering Woeser's interviewees recognized him as Yulusi, an activist from Hebalin; he now runs a successful mahjong business in Lhasa.   Dorje Phagmo's hat, an ancient sacred object, had once been covered with golden Buddhas and pearls, but the Neighborhood Committee tore them off and sold them. The hat was burned in the struggle session that day.
---
Tsering Dorje
Untitled
Late August, 1966
The intensity of the struggle against Dorje Phagmo has increased; she is now being forced to carry a heap of textiles and appears bowed down under the weight.  The children in the background may have been throwing stones at her. The vessel she holds is a bumpa, used to store grains and other items that have been blessed in a religious ceremony. Dorje Phagmo's bumpa, most likely a precious antique, disappeared after this struggle session.
---
Tsering Dorje
Untitled
Late August, 1966
Kashöpa, a prominent if controversial figure in Tibet, a former cabinet minister under the Dalai Lama who later held several government posts under Communist rule, was singled out for criticism for fourteen straight days.  He was made to work in the fields all day and then subjected to struggle sessions that went late into the night.  His pointed hat reads, "Kashöpa, an ox-demon-snake-spirits, a power-seizing bad person, to be completely destroyed."  The young female activist on his right is Kalsang Drolma, whose parents had been servants in Dorje Phagmo's house.  The man on Kashöpa's left wearing a Red Guard armband is another neighborhood resident, Kalsang Paljor.
---
Tsering Dorje
Untitled
August or September, 1966
In the foreground, the wife of Sampo Tsewang Rigdzin has been draped with gold and silver jewelry and made to carry a tray of ritual objects; tied to her back is a bo, a metal tub used to weigh barley. Her husband stands in the background. Because they belonged to an important family of aristocrats with leading positions in the government, Sampo and his wife were repeatedly struggled against and all their property was confiscated. He died, deeply depressed, in 1973; his wife passed away soon after.
---
Tsering Dorje
Untitled
Possibly August 26, 1966
A struggle session organized by the Barkor Neighborhood Committee against the Nyarongshag family. The Neighborhood Committees were local organizations of Red Guards; Barkor is the neighborhood around the Jokhang. The man in the center, Tsojé (doctor) Rigdzin Lhundrub Paljor, was severely beaten in the struggle sessions. He never recovered and remained largely bedridden until he died, in 1979 at eighty-two. Flanking him are his daughter Tsephel, who had given birth just days earlier, and his son Kungyur, who later fled to India; both were doctors of traditional Tibetan medicine like their father.
---
Tsering Dorje
Untitled
August or September, 1966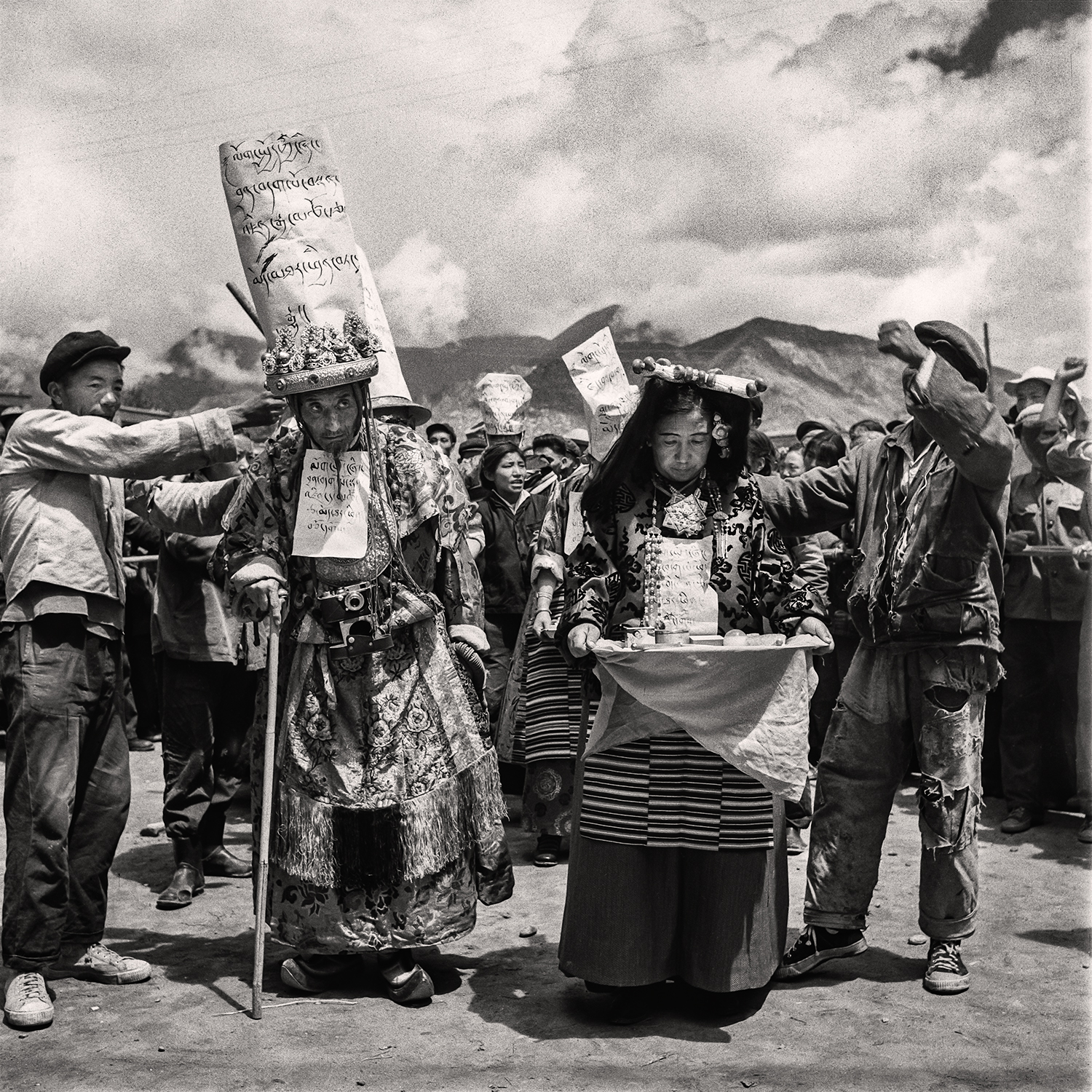 Struggle session against the Tenth Demo Rinpoche, a member of an important lineage of reincarnated lamas, on August 27, 1966. His hat reads « Completely overthrow the reactionary serf-master Tenzin Gyatso. » The first well-known Tibetan photographer, he has been made to wear a camera as « criminal evidence » of his foreign connections. Demo Rinpoche's wife has been forced to wear a formal gown and to carry a tray of her jewelry to show her wealth.
---
Tsering Dorje
Untitled
August 27, 1966
Tsadi Tsetan Dorje, one of Lhasa's four mipöns, an official equivalent to a mayor before Tibet's "liberation." He and another mipön had been in charge of the city jail and were known for their cruelty to prisoners; during his denunciation session, probably the most brutal of any in Lhasa, he was publicly beaten and forced to eat dough mixed with whole grains of barley with the thorns intact. Some attributed his early death, a few years later, to stomach damage from the thorns. The ring placed around his neck reads "slaughterer of the working people." The portrait of Mao in the background appears to have been a necessary prop for struggle sessions.
---
Tsering Dorje
Untitled
August or September, 1966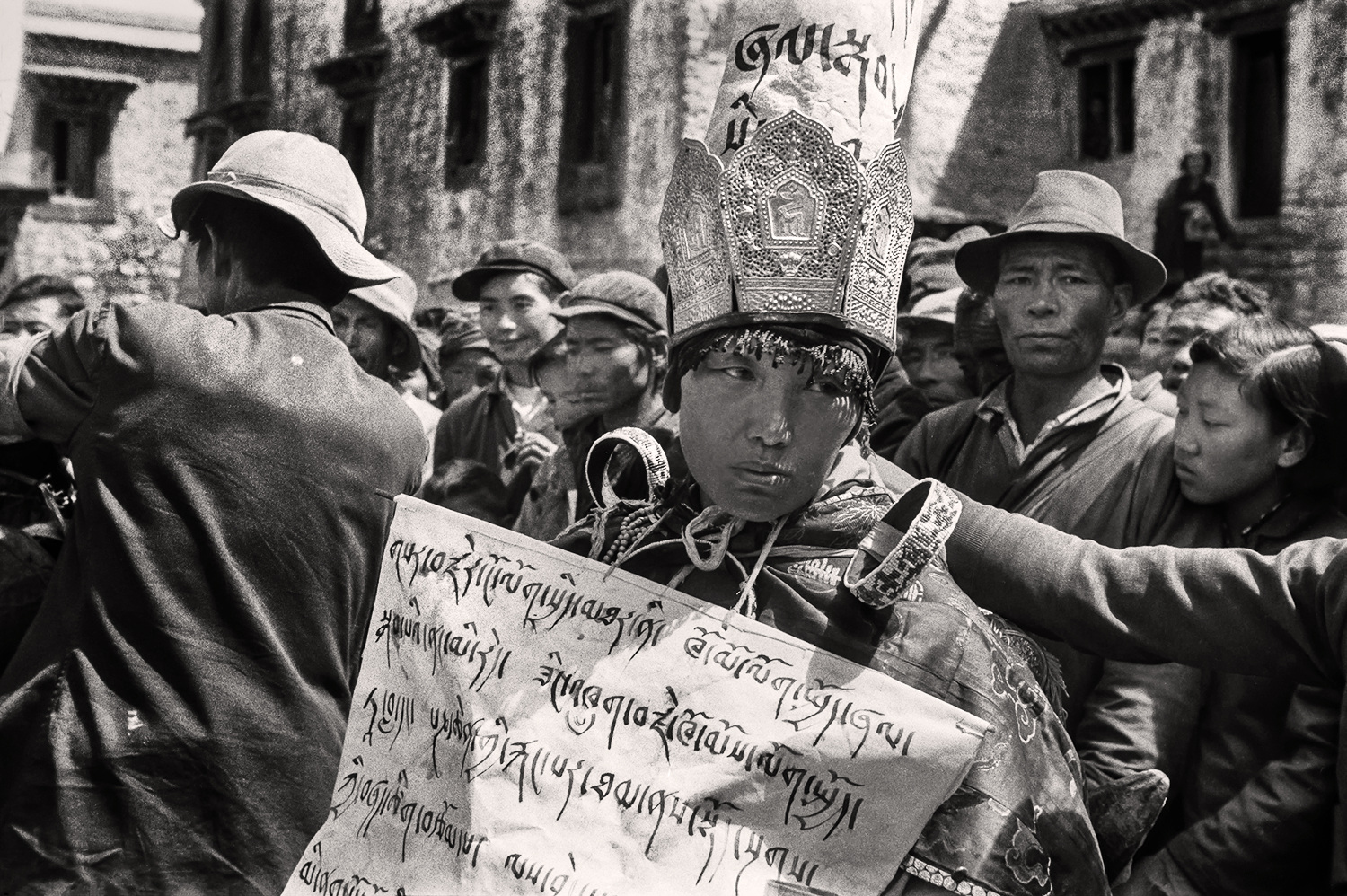 Ani Sita-la (the suffix « -la » is a sign of respect) was a married woman from an aristocratic family who renounced worldly wealth to become a nun. She has been made to wear the Crown of the Five Buddhas, normally used for religious ceremonies. The one legible (but mis-spelled) word on her hat, « Shakabpa, » refers to her older brother, Shakabpa Wangchug Deden, a finance minister in the Dalai Lama's government who had written a history of Tibet that depicted it as an independent state–likely the reason Ani Sita-la was chosen for public humiliation.  Afterward she was confined to a political study group and subjected to further criticism. Upon being summoned to yet another struggle session, she attempted suicide and was imprisoned for eight years.  After her release she left Tibet for India, resumed her religious practice, and passed away, aged 80, in 2000.
---
Tsering Dorje
Untitled
Probably August or September, 1966